The following is posted courtesy of WStNN.com (Wall Street News Network)
The following delightful, informative, and entertaining interview was provided by Michelle Phillips, a vocalist with the Mamas & the Papas, also songwriter, actress, and model. She co-wrote the popular song "California Dreamin'" which was certified as a Gold Record in 1966 and was inducted into the Grammy Hall of Fame in 2001. The song is No. 89 in Rolling Stone's list of the 500 Greatest Songs of All Time
She has appeared in 43 TV shows, including Knots Landing, Beverly Hills 90210, Fantasy Island, and Hotel, and over 40 movies, including Dillinger, for which she was nominated for a Golden Globe Award for Most Promising Newcomer.
This interview covers:
What is included in the auction
The Painted Turtle charitable organization
The changes in the music industry
Singing versus Acting
Success
Advice for those interested in getting into the entertainment business
The Michelle Phillips Interview
Enjoy listening to this great discussion.
To stream the interview, click:
You can also download the interview as an mp3 by right-clicking (or Control clicking) HERE and choosing "Save as".
More Info About the Upcoming "California Girl" Auction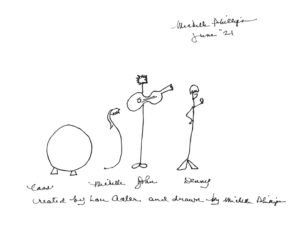 The original "California Girl" memorabilia and her videotaped hand drawn group image through ViciNFT through June 29
ViciNFT Corporation designs, builds and manages digital assets and non-fungible tokens (NFTs) for enterprises and creators. The company's works are carbon neutral, and include a mandatory charity component equal to 25% of auction proceeds, making "NFTs for the common good."
The video of the original drawing, the digital drawing
For concierge bidding for those who buy via US Dollars and credit cards contact ViciNFT Corporation
More Info About the Painted Turtle
The Painted Turtle's mission is to provide a year-round, life-changing and authentic camp experience for children with chronic and life-threatening illnesses. The Painted Turtle supports children's medical needs, inspires them to reach beyond their illness, and provides care, education, and respite for their families. All campers and families attend free of charge.
California Dreamin'
The Mamas & The Papas "California Dreamin'" (September 24, 1967) On The Ed Sullivan Show
Photo source: Wikipedia